Dragon*Con 2000
Tracy Scoggins at Dragon*Con 2000
Tracy Scoggins loves science fiction. She was an original Star Trek fan who used to carry around a picture of Mr. Spock. She says, "I used to drive Walter [Koenig] crazy whenever we had scenes together asking questions about the original Star Trek." Planet of the Apes was her favorite movie as a child.
Working on Babylon 5 was a great experience for her. "Everybody made me feel so welcome there. I never felt like the new kid on the block." Her hardest challenge on Babylon 5 was finding the "command voice".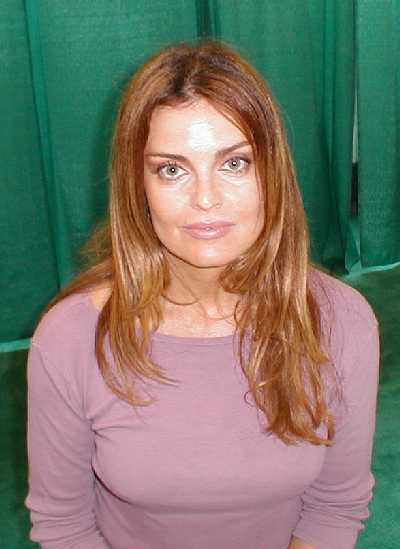 Tracy Scoggins at Dragon*Con 2000.
Tracy's favorite Babylon 5 episode for Lochley's character is "Day of the Dead" because it shows the audience Lochley's vulnerabilities.
When they filmed Tracy's corset scene in "The River of Souls" they closed the set and allowed only essential people in to make her feel more comfortable. "At one point I turned to the costumer and said, 'Correct me if I'm wrong here. We're making this for millions of people to see, right?' I'm actually way more comfortable with the set decorator."
Tracy has a few regrets about Babylon 5. "I would like to have had more scenes with Delenn, actually. I thought that would have been an interesting chemistry. And I wouldn't have minded fooling around with Garibaldi."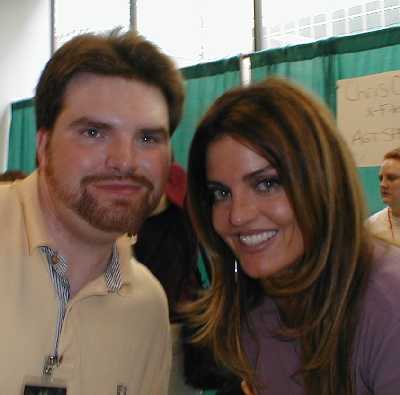 Mike Helba with Tracy Scoggins.
Tracy just finished filming the movie A Crack in the Floor with Gary Busey. She plays Busey's mother in flashback scenes, so she didn't get to act with him.
Tracy is helping Jerry Doyle with his congressional campaign.
Next Page: Walter Koenig