Dragon*Con 2000
Dragon*Con 2000 took place in Atlanta, Georgia from June 29 through July 2, 2000. Several Babylon 5 guests attended including Andreas Katsulas, Richard Biggs, Bill Mumy, Jason Carter, Tracy Scoggins, Walter Koenig, Bob Krimmer, Stephen Austin, David Allen Brooks, and Peter David.
On the next nine pages I will bring you photos, news, and impressions from the convention.
One thing Dragon*Con likes to do is throw as many Babylon 5 guests as possible together in one huge panel on Sunday afternoon. All of the Babylon 5 actors attended this panel except for David Allen Brooks and Walter Koenig.

The cast of Babylon 5 at Dragon*Con 2000's "big Babylon 5 panel".
Richard Biggs was especially entertaining at the full-cast panel. Unimpressed with the speed of the staff member taking questions with a roving microphone, Richard finally said, "Give me that," and jumped up to take the microphone for himself. He spent the rest of the panel running through the room in a manic frenzy taking questions from fans.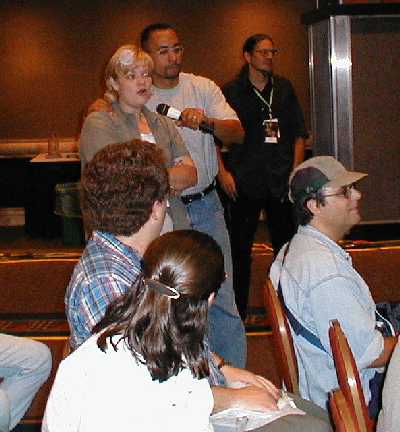 Richard Biggs takes a question from Rochelle Helba during the "big Babylon 5 panel".
Tidbits from this panel and others are spread throughout the rest of this article.
Elsewhere at the Convention
Down in the gaming room, Babylon 5 fans were having fun with the collectible card game and the Babylon 5 wars miniatures game.
For the Babylon 5 CCG social tournament, the Ranger in charge decided to hold one huge game with all the players instead of several smaller preliminary rounds. The result was a massive 10-player game in which almost every faction available in the game was used.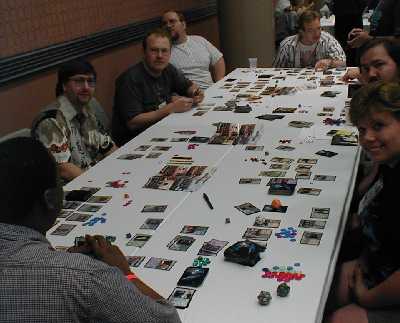 The 10-player Babylon 5 CCG social tournament at Dragon*Con 2000.
Photos and News from the Actors
There are lots of photos, news items, and quotes from your favorite actors on the following pages:
Page 2: Andreas Katsulas
Page 3: Bill Mumy
Page 4: Jason Carter
Page 5: Tracy Scoggins
Page 6: Walter Koenig
Page 7: Richard Biggs, Stephen Austin, Bob Krimmer, and David Allen Brooks
Page 8: Richard Biggs and Jason Carter
Page 9: Stephen Austin and David Allen Brooks