Dragon*Con 2000
Bill Mumy at Dragon*Con 2000
Bill Mumy is a big science fiction fan and comic book collector. He currently loves to watch The X-Files. He also collects rock-n-roll autographs and PEZ dispensers. "I want a Lennier PEZ dispenser," he declares.
Bill Mumy said that Joe Straczynski was very open to his inputs about Lennier's character and actually changed a few script items that Bill felt were out of character for Lennier. However, Joe didn't change Lennier's final betrayal that Bill felt was very much out of character.
"We were getting near the end of the show. I thought I was going to get through it OK. I knew Joe wanted to punish me some more," Bill says. "I was a little sad for poor Lennier. I don't really think he would have done that." He adds, "It's an interesting twist, and I think it played OK, and who knows what the future holds: Dark Lennier Rising."
The highlight of Bill's appearance at Dragon*Con 2000 was his concert. He played his solo material plus some Jenerators, Barnes & Barnes, and cover tunes. Bill played acoustic guitar and was occasionally accompanied by his "band" - a harmonica.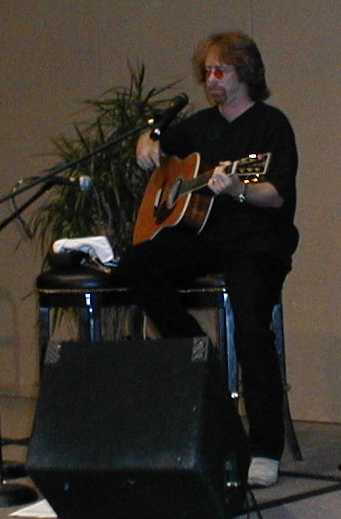 Bill Mumy tuning up for his concert at Dragon*Con 2000.
Bill Mumy is a fantastic songwriter and musician. He began playing the guitar when he was ten years old and is influenced by Bob Dylan. His songs are filled with emotion. As a special treat to Lost in Space fans he played "The Ballad of William Robinson".
Those who attended his concert loved his acoustic work. Bill says all of his solo albums have some acustic material.
Bill's new solo album, Pandora's Box, will be released in August 2000.
I urge everyone to seek out his music. It's really very good.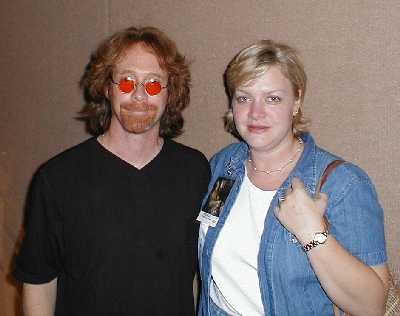 Bill Mumy with Rochelle Helba after the concert.
Bill's science fiction movie, Overload, is currently in preproduction. He co-wrote it with Peter David. Tony Dow, who directed several Babylon 5 episodes, will direct and appear in the film. Claudia Christian rounds out the Babylon 5 alumni in the cast that also includes George Takei, Angela Cartwright, and several former child actors. He expects the film to be complete in December 2000.
Bill is finishing up a science fiction / fantasy novel that he is writing with Angela Cartwright.
Next Page: Jason Carter